From the Website of PHIL. STAR


links: http://www.philstar.com/nation/2015/06/25/1469507/abu-sayyaf-threatens-behead-3-captives

Abu Sayyaf threatens to behead 3 captives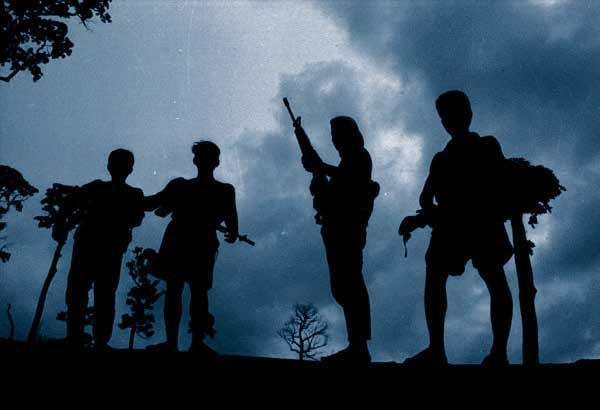 MANILA, Philippines - The Abu Sayyaf has threatened to behead two Philippine Coast Guard (PCG) personnel and a barangay captain they kidnapped in Dapitan City in Zamboanga del Sur last month.
A video that has gone viral showed the three captives on their knees, half-naked and blindfolded with masked gunmen behind them.
"I am Allan Pagaling of the Philippine Coast Guard, asking our government leaders, especially President Aquino and Sir (PCG commandant Admeral Rodolfo) Isorena to help us.
Sir please help us. They will execute us," a crying man identified by the PCG as Seaman First Class Rod Allain Pagaling said in the video.
A bolo is also drawn across Pagaling's neck.
SM2 Gringo Villaruz and Robert Bulagao of Barangay Aliguay made the same appeal in the video.
"We will behead one if not all of the hostages if you will not comply with our demands," one of the masked gunmen said.
The gunmen did not specify the ransom demand.
A source in Sulu has confirmed that the Abu Sayyaf demanded a P1-million ransom for each of the victims. Other sources said the bandits asked for a P100-million ransom.
PCG spokesman Cmdr. Armand Balilo confirmed that two of the blindfolded men in the video were PCG personnel.
"We assure the families of the victims that we are doing our best to rescue them. The commandant has since day one given instructions to PCG Northern Mindanao district commander Commodore Ferdinand Velasco to exhaust all possible efforts to recover them," said Balilo.
He said they are also coordinating with the Philippine National Police and the Armed Forces of the Philippines.
The victims were monitoring the arrival of vessels ferrying visitors on an island resort off Dapitan City when they were seized before dawn on May 4. A third PCG personnel, SM Fabian Balongkit, managed to escape.
Witnesses said the armed men dragged the three into two pump boats and fled toward Dipolog City.– With Roel Pareño
---
PROTECTION AND PROMOTION OF HUMAN RIGHTS
---
-----------------------------------------------------------------------------
----------------------------------------------------------------
---------------------------------------------------